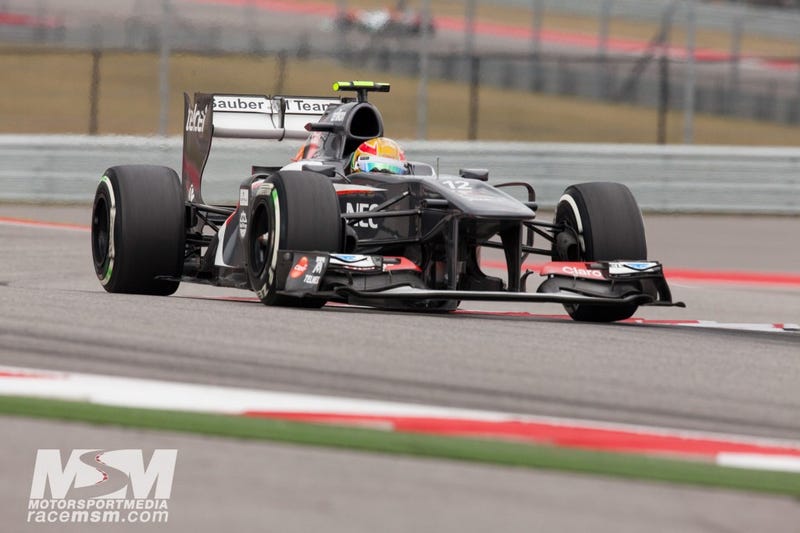 At long last, it finally appears that there will be a US effort in F1. Perhaps no topic has pegged the pundit FPM counter (lip Flap Per Minute) with such consistency over recent years. There's never a shortage of opinions, whether contemplating a US manufacturer, team, or driver. Talking points have run the gamut from alleging no USGP can survive without it to bolder proclamations that the sport itself literally aches for a US competitor.
However, despite all of this conjecture, what does it really mean? Does this really have a defining impact on the long term fortunes of any USGP? Do US F1 fans, often underestimated in both number and passion, really require a US competitor to solidify their interest in the sport? Has the lack of a US player adversely effected the reach of F1 worldwide?
From a team owner, automotive marque stand point, US participation in F1 has indeed been sparse. Dan Gurney and Roger Penske come immediately to mind, but their efforts were decades ago. Carl Haas pulled World Champion Alan Jones (Australian) out of retirement in the mid-80′s to spearhead his short lived Beatrice-Ford team, but that only lasted two years. These endeavors were noble compared to the more recent fiasco known as USF1, an effort which failed before it began and appeared based more upon wishful thinking than anything else.
There has never been a true US factory team. Ford was once a common name in F1, but only as an engine supplier through their subsidiary operation Cosworth, a British high performance engineering firm.
Now American Gene Haas has been granted an FIA license to field an F1 entry beginning in 2015. Haas (no relation to Carl) comes to F1 having made his name in NASCAR.
On one hand he appears uniquely suited to make the leap into F1. Founding and building Haas Automation, one of the world's premiere machine tool builders, his engineering credentials are formidable. Haas Automation features a European facility in Brussels, Belgium, and one of the world's most advanced wind shear tunnels in Charlotte, NC, the base of Haas' NASCAR operations.
On the other hand, beyond four wheels and a throttle pedal for the right foot, there may not be a lot of carry over from NASCAR to F1. Haas will be essentially starting from scratch and the road to fighting at the front in F1 will be long and arduous.
Although Haas has proclaimed that they will be doing it the "American way" (
) it is doubtful that his entry into the sport can be accomplished without the reliance upon key personnel well versed in the design, construction, and development of a Grand Prix car through an entire season.
F1 is largely a product of British design. It is often stated that English engineers don't particularly care for the American approach, and it is doubtful that American engineers, with no prior experience specific to F1, can simply jump right in and prove competitive on their own terms. Not to those final, critical hundredths of a second. It seems likely Haas will be dependent upon poaching engineering talent from across the pond.
Contrary to Carl Haas placing a proven World Champion in the Beatrice cockpit, today's discussion almost assumes that US pilots are guaranteed. Whereas there are handful of strong candidates for one seat, it is doubtful that Haas can afford to fill both seats with American drivers who have never started a F1 Grand Prix, a topic all too often glossed over when postulating long term US objectives in the sport.
Many would relish the chance to see Haas' NASCAR heroes carry the flag against their international counterparts, but this novel sentiment will not lift a newcomer off the back row of the grid. Haas must seek a proven race winner to lead his team.
Unfortunately, the objectives of an American team and an American driver are largely mutually exclusive, and to force one upon the other is like putting the cart before the horse. For any US entrant, driver or team, to secure a long term presence in the sport, a broader, less cluttered perspective is required.
Haas will also need to secure the backing of a title sponsor who derives their primary revenue from international markets. He will not be able to simply transition his current clientele of NASCAR sponsorships to the F1 effort. Unlike Ferrari, where US based sponsor UPS enjoys certain benefits aligning itself to one of the world's best brands, Haas will not offer such a connection to his suitors. His pitch might likely recruit firms with a gung-ho approach, firms who want to be associated with climbing mountains, achieving the impossible. The operational mode required to service the PR, publicity, and hospitality demands of such ambitious clients on the world stage will be enormous.
Thus the question as to what all of this really means is extremely relevant. Haas is stepping into unchartered territory where the seduction to drape oneself in nationalistic pride could confuse and unjustifiably derail the true quest.
It is most ironic, at a time when the modern F1 paddock is as true a melting pot as most American cities, that armchair conjecture about the US in F1 seems so focused on flag waving. Even Ferrari, the pride of Italy, has in recent history relied upon British engineers and non-Italian drivers. Never has any prior American participation in F1 found itself so potentially tangled under the preface of "how will this look" as opposed to "how do we win."
There's no indication that Haas will not meet all the challenges that lie ahead, nor that he will succumb to pressures nor influences beyond his own objectives. This is obviously much more than a whim and it is fair to assume he will first and foremost focus on doing what is necessary to win.
A successful US venture into F1 can only attract growth, but the ultimate benefit might prove more sublime than the conjecture we so often hear. It will more likely further enrich and diversify the cast of competitors in the same fashion F1 always has, as opposed to merely shifting the market dynamics of racing in the United States.
Direct Link - Click Here
Photo Credit: Jim Hunter | MotorSportMediaAuthor: Jim Hunter | MotorSportMedia